CAT HAPPY TAILS
Cats Waiting To Be Adopted | Already Adopted Cats | Cat Happy Tails | Rainbow Bridge
Pam,
Here are a few more pictures of Spooky & Shadow...They are a pleasure to have and make a great team! Yes, they are growing...What a difference having two kittens instead of one! I truly believe that having the two kittens is healthy for pet and owner. Enjoy!

Mary Jane


Hi Pam...

The fur kids are doing great. Everyone is strong and healthy - Pyro is still odd - doesn't like anyone to pet him with their hands but loves you to rub his back with your foot. I believe him to have autistic tendencies and really needs a more firm heavy touch... but we just love him to pieces. Rogue is her same sweet outgoing self - very, very pretty cat - soft - wonderful to pet. If I remember right, Pyro weighs 12 lbs and Rogue, 9.5... something like that. I have some pics of Rogue and I think Pyro let Ron catch him with his cell phone camera. William still asks about "Sea-mix" (Phoenix) the mommy cat. I told him she found a happy home and is well loved and cared for. Pyro (Lover Boy - this was NOT set up like this - he did it himself, LOL) and Rogue... I thought I had a better picture of her - I will have to keep looking... thought you would enjoy these! Anyway - thanks for asking. Hope all is well with you.

Jeanne Cekala
Pam,

Hey this is Holly. I hope you remember me. I had given you information about my siamese cat that I ad to find a home for before moving to Arizona. Well, I am happy/sad to report that I have found him a home. I dropped him off today and I wanted to wait till I had done that so that I was sure I didn't need his information on your site anymore. I want to thank you so much for putting his bio up on your web site and helping me find him a good home. I can't thank you enough really. I was of course very sad to see him go, but feel better knowing that he has a new home and not some other place or SPCA or something. So thank you again and I suppose you can either take his info off of your web site or put something there that shows he was found a home. Thank you again.

Holly
Hi Pam,

The cats are adjusting well! It's a long story as to how we came up with the names, but the little boy is now called "Paco" and the mother is "Lucy." Paco loves to play and little by little is getting more comfortable with his new home. He lets us pet him now but is still a bit timid. Lucy has claimed the space as her own and sleeps on the bed with us regularly. I keep meaning to take some pictures to send to you and will hopefully get to that soon.

Evan
Pam:
HI! I did get some pictures of "Shadow and Spooky". See attached. They are alot of fun and their dispositions are great! Also, I did order and receive the nail clippers you recommended. At your convenience, please let me know when you might be able to stop by and show us how to use them.
Thanks,
MJG


Hi Pam!
How are you doing? Fine Here! Today is Emma's 1st Birthday! We are going to celebrate with cupcakes and a tea party also some tuna snacks. (we're not gonna eat them though, haha) She's still so little to me though. She is actually sitting with me as I write this to you. She is the best! She is just so lovable and sweet. We all love her very much and are so happy to have given her a home, her home where she is the "queen" of the house. I could go on and on about Emma. All those years of me saying I would never get a cat, not because I didn't like them, I just never had one growing up. What was I thinking? Cats bring so much love to your home, so much love in your heart. Emma is just a FABULOUS KITTY and she has really warmed my heart towards cats. Not that I never not liked cats, I just didn't know much about them. She knows her name, she comes when you call her, and she is always there to greet you. And Butchie (our dog) is just crazy about her. I just wanted to share that with you. Oh and I also wanted to tell you that Bear, my mom's dog, is just fabulous. What a wonderful dog. It makes you wonder why people return their animals and say bad things about them because Bear is nothing what was told to us at the shelter by what the old owner said. He is a wonderful addition to our family also. And we have you to THANK for our wonderful additions.
Talk to you soon. Wendi
HELLO,
SORRY I HAVE NOT WRITTEN IN A WHILE. BEEN REAL BUSY GOING TO A LOT OF DRS. APPT.
BUT RILEY IS DOING GREAT, HE REALLY IS THE MAN OF THE HOUSE AND HE KNOWS IT. I DO NOT THINK HE COULD BE ANYMORE SPOILED THEN HE ALREADY IS.
HOPE THIS MESSAGE FINDS ALL IS WELL.
GOD BLESS YOU, SUZANNE & RILEY

THE PIC'S IS FROM WHEN MY FRIEND BRIAN BROUGHT MY SON IN FROM FLORIDA. HE HAS A HOSPITAL BED AT HIS HOUSE FOR ME.

Love, Suzanne & Riley
Yippeee!!!!!! I just got off the phone with Kathryn. She's so great!. We agreed that I would take Tessie to the vet to get a complete check-up, bloodwork, etc to make sure her animals are safe. I'll bring her vet file with me along with her toys and bed. I preferred to drive Tessie to Kathryn's home, just so I can get a feel for the situation. WE've tentatively set a date of Friday, 8/12 for the transfer. I offered to pay any expenses for the first year but Kathryn said she'd assume any costs.

Thank you so very much for your care and persistance. I just said to my husband that when a situation "feels" right, you know it. I KNOW this is the place for Tessie and, if not for you, it would not have happened. I hope you realize how great and important your work is. Please know that I will help as much as I can and, if you ever have an emergency or need, I hope you will reach out to me.
With deepest gratitude,
Kathy
Hi Pam ~
I was going to email you this week to let you know how the "girls" are doing. As I write this, Keiki is about 1 inch from the screen--trying to chase the letters as they go by or as I scroll up and down! She is funny and feisty.

I thought since she was smaller, she'd be more retiring and shy. SHE IS NOT! She is always ready to eat...to the point of pushing Koko out of her bowl before she's finished eating. Cries like crazy when it is time to eat..otherwise she's quiet, but rambunctious. The first day we let them out of their room for an extended time, she managed to get up into our recliner chair and would not come out. I even tipped it over to try to get her...couldn't reach her. She was WAY up in there! Finally, we left her be and she started crying so I tried again and she let me get her. Hasn't done it since. (Now she's sleeping on the desk-gave up on chasing the words!)

Keiki is a love bug--purrs all the time. Just talking to her, she purrs. She seems to be adjusting just fine, too. The first day, she cried when she was in their room without her sister, once sister came back, she was fine....and the first night she cried just a bit when we went to bed and I guess she realized they were alone. Now she only cries occasionally when it's feeding time, or sometimes if I talk quietly to her, she opens her mouth to cry, but no sound comes out! Too cute.

As you can tell, we are enjoying them like crazy. I think they are almost used to us and the house...sometimes Nick is just SO LOUD...but they seem to be taking him in stride. If they need to, they go under the couch and he can't bother them way back there! They figured out how to go over the baby gate we had in the doorway, at least by the second or third day, so they are pretty much free to roam now. I am going to move their litter box downstairs (basement) maybe tomorrow or the next day. I think they know their way around by now pretty well.
I will try to forward the pictures I have so far. I took a bunch the first day, but they just wanted to sleep and kept closing their eyes! More to come later....

We will keep you posted, and thanks again for two beautiful girls!
Karen
(sorry this is so long...wow!)
Hi Pam,
Just wanted to let you know the kids decided on the name "Ollie", short for Oliver, for the kitten. He's great! We all are getting adjusted. Talk to you soon.
Thanks again
Phylis
Daria... well... Daria is Daria. Daria with Mardi Gras Feathers



Beamer on the bed in front of the blinds he destroyed


Fletcher is difficult to catch unless he comes to you first...It took me 5 minutes to catch him... :-P



What can I say we both have fat faces. That is such a good picture because Kringle is actually looking into camera. He is a sweetie. He loves yogurt, ice cream and taco bell. Go figure.

Christine & Justin



Pam,

He's so cute. My boyfriend, Lovessss him. He said, this morning, he's my cat.

Letting you know - they are finally getting along. God, I thought it never would happen. But they're doing good. Peanutt and Sammi are great, he's upstairs tearing the house apart, for all his toys I bought him. He is absolutely 100% use to the dogs, wants constant company. lol. He's a awesome cat, he's in a wonderful, caring, beautiful home. I ll keep you posted. Got to run.

Thanks,
Lisa
Pam,
Sorry for the delay in responding. Yes, we got the e-mail and the kitty care package and Pam, thank you so much!!! The kittens are doing great. They have been in the laundry room and we have a gate at the end of that short hallway and they have the run of that area. At first I thought they would not come out and after you left and the rest of my family was out that same evening, I went in the laundry room and sat on the floor and just was there with them. Soon, a head popped out from behind the washer and then another head. They were scared at first but now they are not! We also purchased some toys (feather, ball hidden in a circular plastic mold and one of those carpeted perches and they love them. After the first day,the kittens have warmed up to all of us. I asked each of the family to spend some time with them and the kittens have really blossomed. We named them Spooky and Shadow. There is a noticeable difference between the two of them. Spooky, at first seemed like the more dominant of the two.She is slightly bigger, has a fuller tail and I think has a few wisps of white on her front chest area. Shadow, on the other hand was smaller, thinner tail and did not take the lead. Well, that all changed in a day. Shadow is definitely the more aggressive of the two. Both have beautiful personalities. I did get the information re: their vaccinations, etc. I just don't know which one is "Gail" and which one is "Oprah"?
We have been feeding them the Friskies cat food and they love it. We will soon move them in the basement where is very little furniture and alot of room to move about and then the next move is to gradually have them explore the upstairs (main floor) of our home and then the upstairs bedroom areas. At that point, I wanted to put a small collar with a bell on it so I know where they are. At this time they are much too small for a collar. I guess my only question at this time is: We want to make their "base" home the basement (which is fully finished with carpeting, etc.). Do you think that having a litter box in the upstairs area (first floor) as well as the bedroom area (second floor) is a good idea or will it confuse them? Or is it sufficient to have the litter box in one place and they will adjust to that. I know when we had other cats we had only one litter box.
Thank you for your kind support and sorry again for the delay in responding.
I will keep in touch.
Mary Jane Gray


SEE, EVEN LEUKEMIA POSITIVE KITTIES GET ADOPTED:-))) KATIE WENT HOME TO A WONDERFUL, LOVING FAMILY!!!!!

Hi Pam,
Katie is doing great. She is finally eating with the other cats and running around and playing. She is still not fond of the dogs but is getting better. She has now moved from my daughters room to my husbands office chair! she has full run of the house and loves it. Thank you so much for her... she constantly purrs! We absolutely adore her!!!
Kelly
Hi Pam,

I wanted you to have these photos of Eva. She has come a long way - still doesn't like to be touched except with her "mask." Thank you for that top, but I can walk past her without having her run away. She likes to play with me & the feather toy. She comes to a special stop & waits for me to get it down from the fridge.

I am moving where all the kitties will become indoor cats. They have been practicing for the last 4 weeks. I will let you know my address & plans for Eva if something should happen to me.
Here are the lovebirds!!!! What a bunch of funny cats I have.
Holly Doyle
Hi Pam,

Jerry is adjusting nicely - we have worked out a system. During the day he gets the run of the hallway and at night he goes into his cage. I still can't get all the stinkin poop off of him but I'm working on it. He's getting used to getting bathed in the tub. He actually spent a couple hours out on our deck with us the other night - he is really a very sweet bunny - very social. Pearl likes to go nose to nose with him but they don't bother each other. Please feel free to check in whenever you feel the need.

Carolyn Keen
Hi Pam, how are you? It's Regina. I just wanted to let you know how my 3 babies were doing. They are all great. I am going to send you some pictures of them. . It took Solomon a while to get used to Adam (Tom) and Brody (Jerry) but he loves them now......even though he don't like to admit it....haha Ok well enjoy the pictures.

Regina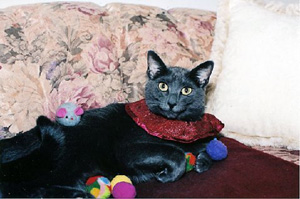 DEAR PAM,

I HAVE ENCLOSED THEREE PHOTOS OF KOKO AS PROMISED TO YOU FOR SOMETIME NOW. YOU CAN SEE BY THE PICTURES THAT HE IS MUCH MORE ANIMATED AND HAS GAINED A GOOD AMOUNT OF WEIGHT. I ALWAYS GIVE HIM 4 DIFFERENT BOWLS OF FOOD FOR HIM TO EAT: WHICH HE LIKES ALL OF THEM. yOU CAN PLACE THE PICTURES IN THE "HAPPY TAILS" SECTION OF YOUR WEBSITE WITH MY PREVIOUS E-MAIL TO YOU. IF THERE IS NOT ENOUGH ROOM FOR ALL THREE PICTURES, SIMPLY PICK YOUR FAVORITE PHOTO FOR THAT PAGE. I SENT YOU THE CUTEST ONES OF THE BUNCH AND BY THE WAY, THE ONE WITH KOKO'S MOUTH OPEN, HE IS ACTUALLY YAWNING, NOT HISSING. I TOOK THE PICTURES OF HIM WHILE HE WAS SLEEPY SO HE WOULD BE MORE RECEPTIVE TO THE COSTUMES I PLACED ON HIM. DOES HE LOOK LIKE ONE SPOILED CAT OR WHAT? HIS FAVORITE TOYS ARE RUBBER BALLS, WHICH HE CHASES ALL OVER MY PLACE. HE MUST HAVE OVER 50 OF THEM. THEY END UP EVERYWHERE.

I HAVE ENCLOSED A DONATION FOR YOUR ORGANIZATION. I HOPE ALL IS GOING WELL WITH YOU PERSONALLY/PROFESSIONALLY. I ALSO DONATED (AS DID MY FATHER) BACK IN MARCH FOR THE "SPENCER FUND". DO YOU KNOW IF HE SURVIVED THE SURGERY AND HOW HE IS DOING? IF SO, WHEN YOU HAVE THE CHANCE, EMAIL ME TO LET ME KNOW.

TAKE CARE, PAM. I'LL STAY IN TOUCH TO LET YOU KNOW HOW MY LITTLE KOKO PUFF IS DOING. HE IS SUCH A DOCILE, GENTLE BUT PLAYFUL CAT AND I KNOW HE IS NOW A VERY HAPPY CAT.

FONDLY,
SUE MILLER (KOKO'S LOVING MOM.



Hi Pam,
Just thought you would like to see how much Romeo has grown! He is very happy in his new home, and he brings me so much joy! He is such a lovable cat. As you can see he loves playing with his toys. I am so happy to hear that his brothers and sister found a good home.
Jennifer
Here's a Pic of Chris's Vivian.......really big, and a Year old Now!!!!! (and his other kid)


BEFORE HE WAS ADOPTED


AFTER HE WAS ADOPTED.


Hi Pam,
I took a few pictures of Romeo. It was so hard since he does not stay still for too long! He is doing very well and has gotten used to everyone in the house. I think he got a lot bigger since Monday! He loves his scratching post and his bed, but I think he prefers my bed! He sleeps cuddled up next to me at night. I put him in his bed, but he eventually sneaks back and I find him on my chest. I am having so much fun with him. I haven't gotten anything accomplished this week because I don't want to leave him. I also got the adoption papers. Thanks for sending them. Any luck finding his brother a home? Well, I will keep in touch and continue to let you know how Romeo is doing. Have a good weekend. Jen
Cookie sound asleep in her favorite Teddy Bear Bed.

We just LOVE our new little addtion :)

Thank you Rosemary Wilson





Hi Pam!

Here are some pictures of "Peety" the picture shows "Peety" sitting willingly with Mic and he was hugging her as she was singing twinkle, twinkle little star to him, he sat there the entire time, it was so cute. The other photo shows "Peety" in the middle of the night past out in my bed. He crawls into the blankets at the foot of the bed and sleeps.
So far, the dog ("Brandy") and "Peety" situation is ok, they deal with each other but they don't cuddle yet. But they stay in the same room with either other. "Peety" won't let "Brandy" come any closer then 2 feet, then he hisses but today they came nose to nose then "Brandy" turned around and walked away and "Peety" just sat there. So they are getting a lot better.

Thanks,
Estelena
Dear Pam,

Just wanted you to know that our two new family members have settled in and are doing fine.

"Sylvester" walked out of the carrier and acted like he has always lived
here, LOL. He is getting along great with his new brothers & sisters
and follows Doug around like a little puppy dog.

"Nacho" is now named Cassiopia (Cassy). After a few hours of hiding in the bookcase watching everybody, she came out and started exploring. She is right at home now and is just as sweet and lovable as can be!

Sharon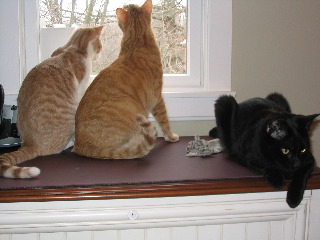 Poor Fonzie isn't part of the "in" crowd yet but he's getting there!
I'm kind of surprised they aren't buddies yet. They are still in the checking each other out phase. Fonzie seems totally comfortable though (and his instincts somehow tell him to stay clear of Gizmo.....the only thing he doesn't get yet is that Gizmo doesn't like to be bothered while she is eating and she will never share her food).
Too bad that Doc is still sick. I wonder why he isn't getting better. Is he trying to be friends with History?
Hi Pam,

I am so excited. I finally got my stupid digital camera working! All I did was move the plug to another port and BINGO!

I've attached several photos of Winnie so you can see how great he looks! I got him taking his morning snooze on Jared's bed (his usual spot). I'll get more later when he's looking out the front door and moving around. But, I was so excited to give you a peek at him!

Enjoy! Fran


BELOW YOU WILL SEE A BEFORE AND AFTER PICTURE OF WINSTON
THE FIRST DAY WINSTON WAS RESCUED:-( SKIN & BONES AT 4 1/2 POUNDS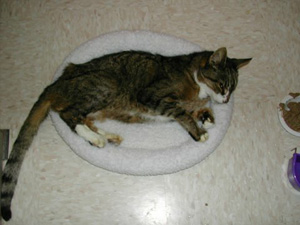 WINSTON TODAY, IN HIS NEW HOME:-) A LITTLE OVER 7LBS.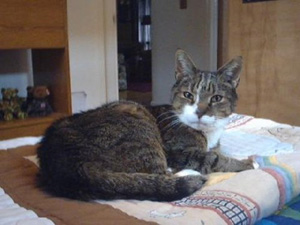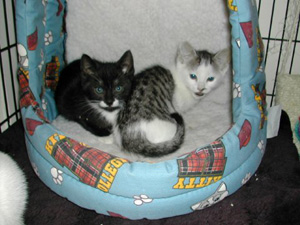 Hi Pam! How are you doing? Fine Here! Today is Emma-Lizzie's 1st Birthday! We are going to celebrate with cupcakes and a tea party also some tuna snacks. (we're not gonna eat them though, haha) I promise that I will be sending you pictures of her so that you can update on your website and see just how big she has gotten. She's still so little to me though. She is actually sitting with me as I write this to you. She is the best! She is just so lovable and sweet. We all love her very much and are so happy to have given her a home, her home where she is the "queen" of the house. I could go on and on about Emma. All those years of me saying I would never get a cat not because I didn't like them, I just never had one growing up. What was I thinking? Cats bring so much love to your home, so much love in your heart. She knows her name, she comes when you call her, and she is always there to greet you. And Butchie is just crazy about her. I just wanted to share that with you. Oh and I also wanted to tell you that Bear, my mom's dog, is just fabulous. What a wonderful dog. It makes you wonder why people return their animals and say bad things about them because Bear is nothing what was told to us at the shelter by what the old owner said. He is a wonderful addition to our family also. And we have you to THANK for our wonderful additions. Talk to you soon. Wendi
Emma-Lizzie is the white with brown tabby kitten
Pam,

I wanted to write and give you an update on the two kittens we adopted. I think their names were Allysia and Elena; they were almost all-black sisters. Now their names are Sophie and Smudge, and they are doing wonderfully!

Except for the respiratory infection at the beginning they've been very healthy. They are strictly indoor cats (we let them out once in the snow, which cured their wanderlust!), and love to race around the house after each other. They play with everything: cat toys, strings, bits of paper… Their favorite toy is a seven-foot-tall scratching post/condo with sisal toys hanging from it. They often sleep perched at the top, and race up and down it when they're awake. I have attached two pictures. The third cat in the second picture is Chole, their playmate, who belongs to our housemate.

Thank you so much for everything! I cannot tell you how much we enjoy playing and petting Sophie and Smudge every day. They are such a wonderful part of our life.

Joanna Johnston and Paul Eriksmoen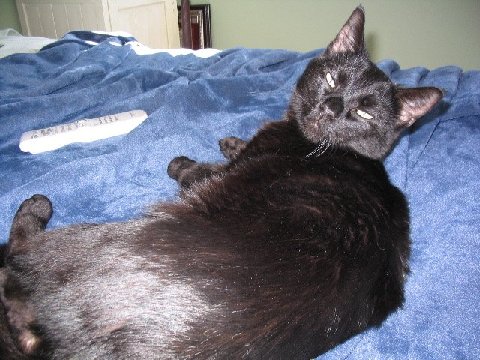 Hi Pam,

Fonzie seems to be getting more comfortable. Usually, he is under the bed when we enter the room he is in. But just now, I walked in and he was waiting for me by the door. I think Wiggins and Hummer got a glance of him too. I used the Feliway. I think that stuff works wonders. I haven't tried the other yet but to my surprise; everyone seems to be handling things just fine. Fonzie still goes under the bed but he comes out for food and to be petted. I am really happy that noone had an initial reaction to Fonzie. So I have really high hopes that he is here forever. We still have to work on some better photos but this is what we have so far.....I get a kick out of how black he is. When he is under the bed or in a dark spot, I literally can't see him!
Tracy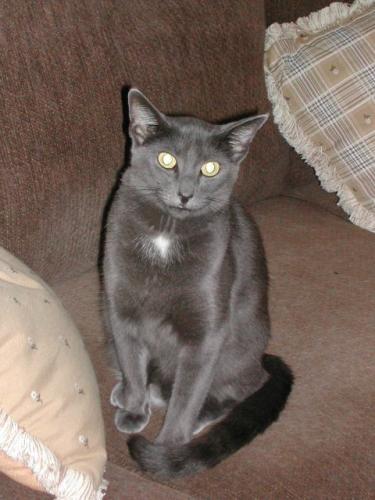 Dear Pam,

This is long over due but since I still live in the dark ages and am not on line at home but only at work, it has been difficult to find the time to let you know how Koko is doing. He has put on some weight-eats like a little horse. He purrs all the time and constantly chirps and meows. He is a very happy kitty now that he has found his new home and actually, has taken over my place. He is such a gentle little cat, but has some spunk and has such an adorable personality. He was like a statue cat when I took him home, but now he is asserting himself .

He is good in the car when I go to check on my father in Pa., but the 2 cats have not yet had the opportunity to be placed together yet. My father's cat is afraid of Koko and acts quite aggressive, but that is his home turf and may feel threatened.

I am in the process of taking some pictures of Koko-have a 35mm.. rather than a digital camera, so I will have to mail you his pics. He is thriving and very happy and follows me everywhere like a little dog. I too, am smitten by the love bug and love him dearly,

I wanted to thank you again for your careful consideration throughout the adoption process and I know I am lucky to have such a sweet and loving buddy to care for. Keep up the good work with your foundation. I will also mail you a contribution along with some pictures in the near future.

The pictures of Koko from the internet are now my wallpaper and screen savers on my computer here at work. Take care. May God Bless you in your continued efforts at saving all these sweet creatures. Will keep in touch with you. Hope your cat clock is still working. Let me know if you have any problems with it as I will get you another one.
Take Care,

Fondly,
Sue Miller -proud mama to Koko puff.
Current picture of the girls, "Molly & Emma". They are doing great!!!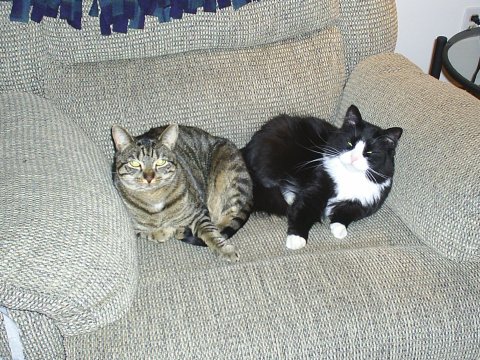 HELLO ALL,

I THOUGHT IT WOULD BE NICE TO PASS THIS POEM ALONG THAT WAS FORWARDED TO ME BY A WOMAN, NAMED LINET, WHO IS ADOPTING AN FIV+ KITTY FROM ME. IT ALL STARTED, BECAUSE A FRIEND OF MINE, FRAN WAS PURCHASING A WREATH HANGER ON EBAY. FRAN SELLS THESE ADORABLE HANDMADE TRINKET BOXES AND DONATES THE FUNDS TO HELP THE ANIMALS. ANYWAY, THE TWO WOMEN GOT TO TALKING AND FOUND OUT THAT THEY ARE BOTH BIG TIME ANIMAL LOVERS. FRAN FORWARDED MY WEBSITE TO LINET, THE WOMAN SELLING THE WREATH HANGER AND SHE CONTACTED ME DIRECTLY. LINET SAID THAT SHE HAS 4 FIV POSITIVE KITTIES (one of which is 18 years old!) AND HAS BEEN ON A WAITING LIST AT HER LOCAL SHELTER, FOR ANOTHER FIV+ KITTY THAT IS IN NEED OF A HOME. WHILE VIEWING MY WEBSITE, SHE CAME ACROSS ONE OF MY ADORABLE FIV+ POSITIVE KITTIES, NAMED "KRINGLE". THE WOMAN DIDN'T THINK IT WOULD BE POSSIBLE TO ADOPT BEINGS WE ARE OVER 7 HOURS AWAY FROM ONE ANOTHER. TURNS OUT, A KIND FRIEND OF MINE, JEN IS WILLING TO TRANSPORT NOT ONE, BUT TWO FIV+ KITTIES TO THERE FOREVER HOME WITH LINET & HER FAMILY. THE POEM BELOW DEMONSTRATES MY THINKING AND I AM SURE MANY OF YOURS AS WELL.... YOU CAN'T SAVE THEM ALL, BUT IT SURE MAKES A DIFFERENCE THE WORK YOU DO EVERYDAY FOR THIS ANIMAL YOU ARE HELPING TODAY. PLEASE TAKE A MOMENT TO READ THE POEM BELOW......

ENJOY!

An old man was picking up objects off the beach and tossing them out into
the sea.
A young man approached him and saw that the objects were starfish. "Why in
the world are you throwing the starfish into the water?" the young man
asked.

"If the starfish are still on the beach when the tide goes out and the sun
rises high in the sky, they will die," replied the old man.

"That is ridiculous, there are thousands of miles of beach and millions of
starfish. You can't really believe that what you're doing could possibly
make a difference!"
The wise old man picked up another starfish, paused thoughtfully, and
remarked as he tossed it out to into the waves, "It makes a difference to
this one."
A PICTURE OF THE LUCKY FELLOW,
"KRINGLE"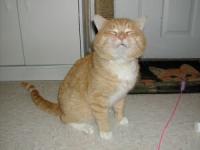 Great News for "Blue"!!!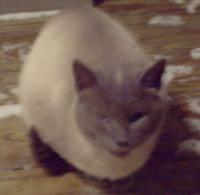 I just wanted to let everyone know that the Tonkinese cat I'd been feeding these past 3+ months, ("Blue") is now at the Animal Welfare Association in Voorhees, NJ, where he will be adopted out as soon as he's been tested, neutered and calmed down some (he's pretty freaked out having been in a trap for 10 hours and then a car ride that took 20 minutes!).
When I took him yesterday, I gave them a large bag of food, litter, Friskies treats (tuna, his favorite), some catnip and a small bottle of Rescue Remedy (might have go give them more as the gal I spoke w/ today said they're already almost out).
What is even better news, is that if he does (I pray he doesn't) show positive for Feluk/Aids, then Pam Ott, owner/founder of Saved Whiskers, here in Southern NJ has got a permanent home for him, so he won't be euthanized (as is NJ state law). The AWA knows this (Pam emailed Shannon there, as did I and I also told her on the phone today), so this boy will NEVER spend another night out in the freezing snow & ice!!!!!!! *YAY*

I am just in tears of joy as I write this - there have been a few people who have "held my hand" these last few months (you know who you are!),

and
again to you. I am grateful for the help of Pam Ott, who paid the "surrender fee" to the AWA, and for the loan of the have-a-hart trap that I was able to safely capture Blue and bring him in just in time, before this snow storm started up.
In case you don't remember this beautiful boy from my previous posts, here's the pictures of him again (throught a paw & nose-printed glass door and taken at night). I wish I could have gotten a better picture of his gorgeous aqua colored eyes...but the memory of them will be in my heart forever.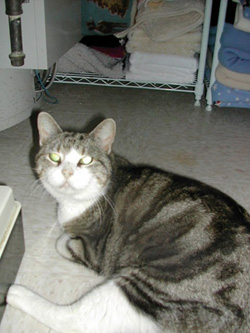 Hi Pam,

Just wanted to let you know that Holly is doing great! She is eating like a champ and just about as happy as she can be. What a precious little girl, my husband and I are already totally in love with our new girl. It really has helped to fill the empty spot after we lost our Melody. She pretty much wants to be wherever I am and rubs herself on my leg to let me know she feels happy.

Thank you so much for introducing me to Holly. She is just the perfect kitty for us.

Sincerely,
Cathy & Ron Bartholomew
HI PAM,

HOW ARE YOU? JUST SENDING SOME RECENT PICS OF THE GIRLS. THEY ARE DOING GREAT. MOLLY LOVES TO WAKE ME UP EVERY MORNING RIGHT BEFORE MY ALARM. EMMA ACTUALLY LETS ME PET HER NOW AND LAYS ON THE BED WITH ME. : )

Jill Rumpf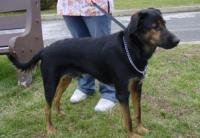 Candice,

Thank you for responding to an e-mail put out by my daughter's cat rescue association " Saved Whiskers Rescue Organization, Inc. ". Pamela J. Ott, CVT, Founder. Thanks to their efforts, our dog adoption at OCHD was made possible.

This being Jimbo's first day home in Audubon, NJ...I am pleased with his personality and friendly adjustment to his new environment. He has been accepting of me, my husband, daughter, and grandchildren. I look forward to his unfolding personality, the good & the bad. I feel he is a good fit into our family. We have had a lot of love here for past pets and Jimbo is only the next recipient in line.
How lucky for him, how lucky for us!

Thanks so much for your e-mail response to " Saved Whiskers " adoption inquiry which brought Jimbo home to me.

Sincerely,
Penny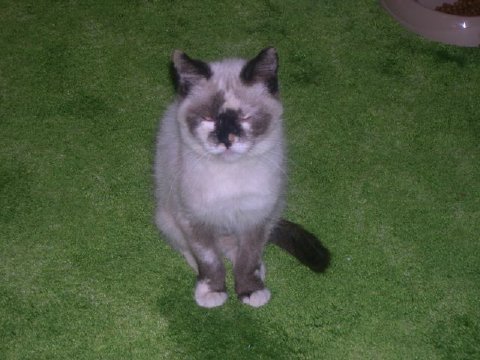 Minne is so wonderful. You would not believe she is the same cat from that animal hoarders house. She is such a little doll!! I let her out of the room she was in and her personality has come to life. She is so funny. She hops all over the upstairs like a puppy. Spike, my 15 year old who usually tries to run the show, doesn't know what to make of her. He does everything she does and vice versa. I think he's in love with a younger woman!! She has taken over Yogi's big berber ball -- I don't know how he feels about that, but she has blended right in. After losing my 18-year old Schroeder at this time last year, she is a Godsend!!!


Hi Pam!

The girls are doing great! They're still trying to figure out who's boss, but other than that, they are good. Carly's on her way to being a lap cat. If I'm watching TV, she's either on my feet, or wherever she wants to be (I don't need to move or anything =). She's taken to sleeping at the foot of the bed. She's purring and clawing on the comforter right now. She likes Doug, & Doug really likes her, too.

Catrina is doing very well. She's been under my bed most the time that people are home. So I've been giving her the wet food under there and letting her adjust. She'll let me pet her under the bed, and she's starting to venture out when I'm home. I can now even feed her breakfast a little bit out from her spot. She likes the bed, too, as long as I am not on it. She's definitely making progress, considering she's only ever seen me for about 5 days of her life.

And they don't have a problem with the electric litter box. I know it's gimmicky, but I like it. It really helps keep the box clear when I'm at work and can't clean it instantly (and helps with the smell for Doug).
Thank you soooo much for these little cuties!! Hopefully we'll decide on names soon.
Sharon

Hi Pam,

I just couldn't wait to show you the newest photos of our guy Winston! We had given him his fluids early this evening, after which he went and sat in the hallway. I sat in the living room waiting for Jared to get done in the bath tub. After a while, I got up and looked in Winnie's room and the hall. He wasn't there. I happened to glance into our room and there he was. He had jumped up onto the bed and laid down with Chessi! He did that all on his own. I can't tell you how overjoyed I was to see him coming out of his shell a little. That's the very first time he did that. I just had to take pics for you.

I was so excited by Winston, I just had to show you. What a love bug! I am so glad to have the opportunity to have him in my life and to take care of him. He's such a deserving guy. Also, more good news. He's been keeping down the KD. I haven't been giving him a lot. Just starting out slow. But, so far, so good. I'll just increase it a little at a time.Well, better run.

Talk to you soon!
Fran


hey pam,

here's some recent pix of our little piggy. she's
quite fat now. i'll send u hard copies via usps. maya
still acts like a dog, sniffing around and scavenging
for crumbs on the floor, insists on playing fetch
multiple times a day and always meowing after midnight
to play, and she still brings u her ball in her mouth
when she wants to play. she's still a scare-dy cat but
curious and sticks her face or nose in everything.
she's got what we call in korean 'the princess
disease'...always wanting things HER way and always
preening herself. u can tell when u've pissed her
off...she makes this funny face and runs away from u.
but we love our little kitty anyways =). do u know she
eats dunkin donuts, blueberry but not cinnamon raisin
bagels, cake, and of course, she begs every night at
the dining table for meat. she's gotten so fat, on
diet food no less, that no one gives her table food
much anymore. c u and nunzio and the other kitties
sometime soon hopefully. take care and hope swro
prospers!

-betty
Pam,

Here are photos of the kitties my son took last night. After we settled them in we went to Pet SMart and got them this big adorable cuddly kind of bed and they layed on it together. Also got them a couple toys and a scratching post with catnip. June, your volunteer is a very nice person. Both, you and she took good care of Buddy and Sweets till they found us. I hope they'll adjust well once they get used to the house. I think its a blessing we found these cats. With appreciation,

Lorraine





HI PAM,
KITTIES ARE DOING GOOD, EMMA IS STILL A LITTLE SCARED. SHE COMES AROUND AND LAYS AROUND BUT DOESNT LET ME TOUCH HER. MOLLY ON THE OTHER HAND DOESNT STAY AWAY FROM ME. SHE LOVES ATTENTION.!!!!! THEY ARE DOING WELL.
JILL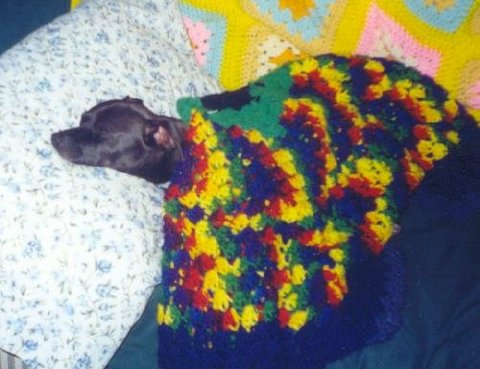 HELLO,
I SHOULD OF WROTE YOU ABOUT RILEY. HE IS DOING GREAT. WE PLAY FETCH ALL TIME WITH ALL HIS NEW TOYS & GIFTS FROM FRIENDS & FAMILY. EVERYBODY JUST FALLS IN LOVE WITH RILEY. HE REALLY LIKES MY MOM SHE SAID SHE WOULD NEVER DOG SIT IF I WENT AWAY. AFTER SHE MET RILEY. SHE IS SO HAPPY TO SEE HIM. AND SHE SAYS TO RILEY DID U COME TO SEE GRANDMA. SHE WATCHED HIM WHILE BRIAN SURPRISED ME & BROUGHT MY SON UP FOR A VISIT. HE IS GETTING MORE & MORE USED TO PEOPLE. BECAUSE ANYBODY WHO SEES HIM JUST WANT TO PET HIM. I SAY JUST LET HIM SMELL YOPUR HAND BECAUSE HE IS AFRAID OF A LOT OF PEOPLE. YOU SURELY PICKED THE RIGHT NAME FOR HIM. BECAUSE HE IS LIVING LIKE A GREAT LIFE OF RILEY. SORRY FOR CHEWING YOUR EAR OFF. BUT I LOVE TALKING ABOUT MY BABY OR MY 2ND SON. MY LITTLE BUDDY RILEY. TAKE CARE.
GOD BLESS YOU, SUZANNE
GOD BE WITH YOU ALWAYS, SUZANNE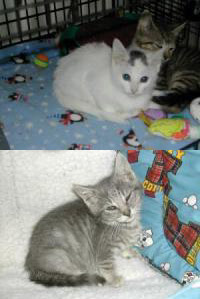 Hi Pam,

Cooper and Beamer are doing very well. Beamer loves to play with this one toy--it's just like that leopard strap toy with the feather--he loves it. Cooper is still adjusting, he likes to hide but doesn't like to be held too much. Beamer purrs loudly and likes to jump up on the bed. He also likes to chew wires, but my son turned the electric off when he went out, so that Beamer doesn't get shocked if he chews the wires. We have a cat cave, and Cooper likes that. They also enjoy their food, and licking the gravy off of the Whiskas paté. Hope all of your cats and the cats you are fostering are well. Hope your basement is cleaned up soon, and there's not much damage done.

Christine Chew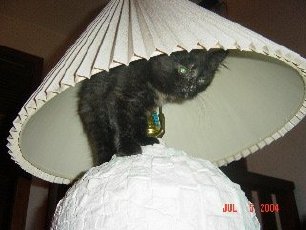 This is Rogue (formally "Ashley"... This cat has more personality than any cat I've ever met - and I've met a lot of cats... she is just crazy... BTW - the lamp is off. Please notice our vicious dog - and yes, I know cats can't eat dog food on a regular basis...

Proud New Owner Jeannie Cekala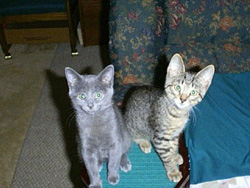 Hi, Pam,

Just wanted to let you know the kitties are WONDERFUL! So affectionate, and so so playful! I'm really glad they have each other. They went for their 2nd shots today, and got a clean bill of health! Lucy (grey manx) is 2.o lbs, and Dakota (domestic) is 2.3 lbs.....he really GREW in a week!

So, thankyou, thankyou, thankyou!!! Our lives are so full now!

Love these babies.............

Sue Post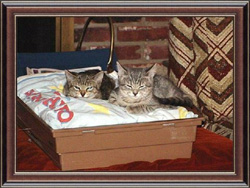 Hi Pam

This is Marlene Hornback Just waned to thank you again for allowing us to take home these beautiful kittens. We will take wonderful care of them. Please don't hesitate to call us or email at anytime. We're introducing them to our pets now , things are going as expected the dog is ok but the cat is unsure. But in time Im sure they will all be fine thanks again Marlene Hornback Just thought I'd send you a few pictures of Peanut & Taffy (formally Vanessa & Veronica).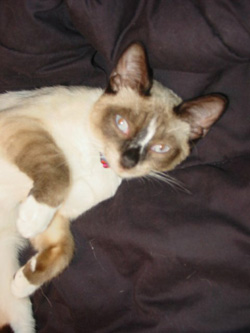 Hey Pam

As promsised, here are some new photos of Jr. As you can see he is making himself right at home. We are still having a little problem with Jazzie and him- but it is a lot better than what is was. He is still a big kitten and he still just wants to play all the time. She wants to sleep.

So right now- Angel (dog) and Jr. Chases each other around. Go figure.

I will speak with you later.

Inga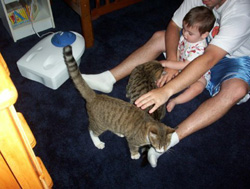 Dear Pam,
The little ones are doing great! The first day or so they spent being shy and hiding behind our couch but now they wont leave our side. I def notice that Artie likes to help with the litter. Every night when I empty it he is right there watching. He loves the wet food so much and he seems to know he is getting it in the morning and when I return home from work because he follows me around meowing until I give it to him. His eye cleared up pretty good but now it seems like Deuce is getting it and i have been giving him the eye cream. Deuce doesn't like the wet food at all but eats the dry food often. Their favorite thing to do is wrestle, day and night! Of course they love wrestling more at night in our bedroom and they sleep while we are awake. Its like having 2 more kids! Deuce likes to weasel his way into sleeping in our bed. The past two nights I woke up with him laying at my feet. Artie likes to lay in the bed we bought. Overall they are great though. I am def glad that we were able to keep them together cause they love wrestling and seem to follow each other wherever they go. Very active and at times overly rambunctious. I am attaching a couple pics I took last night after receiving your email.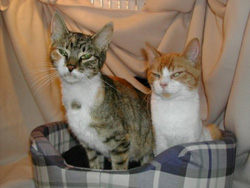 Pam,

Hi this is Sarah, Ryan's girlfriend. We decided to keep the names Lacey and Louie because they seem to recognize their names and they've grown on us. Lacey is a little pig...we've been careful to make sure Louie gets his share otherwise Lacey would eat it all! Louie's eye infection seems to be getting better. At first he was having some trouble with the lights in the house so we dimmed them all, but he seems better now. Lacey adjusted to the move pretty quickly but Louie
seemed to be homesick for the first day or so. He's adjusting better now. He's started hiding under the bed and attacking our feet so we know he must be feeling playful now. They are both so sweet. Thank you so much for recommending them to us when we asked about the kittens. Lacey and Louie are definitely the right cats for us. I tried attaching pictures to the email but they are too big so once I get them smaller I'll send along some pictures. Thank you so much again.

Sarah and Ryan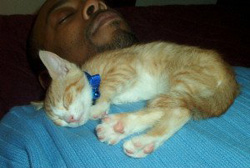 Hi Pam,

How are you?

The kitties are doing wonderful, still into everything. Paulie is still the ring leader. Its so funny in the morning when we let them out. They tear our the room and run down the hall like they were just let our of prison.

Their scratching post, which is all carpeted and shaped like a cone is just about torn up. It's so funny when little Paulie jumps on the top and flips over. He's growing nicely and of course Penny is still getting bigger.

They have a visit with the Vet next Tuesday for other shots and for Penny to have her hernia checked out. I hope she does not have to have surgery, but if need be it will be done.

Will let you know how the Vet visit goes when we get home.

Take care.

Diane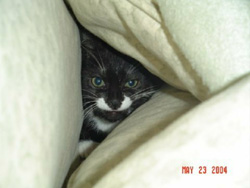 Hi Pam.

I was just sitting down to write you. Taj is making out great. She's a little lovebug, makes herself right at home behind the dryer, but is braver and braver everyday. She's still getting used to running around on my hardwood floors, slipping and sliding all over, but it makes for great entertainment for me. These pictures were taken when she was burying herself in my couch cushions.

She's a real sweetheart. I know you were hesitant to give her to me by herself, but judging by where the toys are when I come home, she's been keeping herself occupied nicely. Thank you so much.

Victoria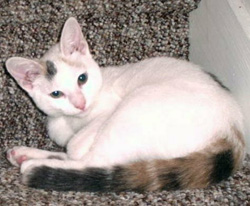 Hi Pam,

Yes my husband loves her and so do the kids the only problem is they fight over the cat sometimes, and Matthew picks her up funny sometimes. She is amazing though because she lets him alsways pick her up and never bites or scratches!! she is safe though-I make sure of that.

She is doing great and she seems very happy with us!!

Lauren DiVello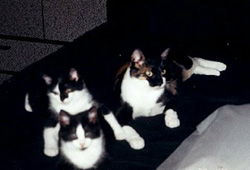 Thank you Pam...they're warming up well. Jade & Jagger (Natalie & Nate) are coming closer & I still need to slowwwly put my hand towards them. They just watched me play w/ their toys (they think I'm here for their amusement, lol). Then when I played w/ a cloth measuring tape, they got involved. All ate pretty well...some wet, some dry. Jag seems quite the hungry boy...still nursed on Jazzie (think I'll confuse them w/ all the Js). Jade was nursing this morning the first time...she seems more independent. They didn't seem to drink much water, though. Any thoughts; or is this their norm? Well, I'll keep you updated. I know they mean a lot to you & am more than happy to keep you informed. Have a great Sunday. Kim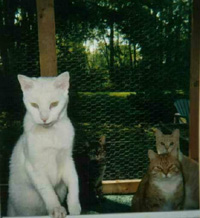 Pam

Well, I can see why he was called Bumpy, by his deceased owner, LOL Now that he's decided I'm not Satan..he's giving me lots of bumps on my leg, and lets me pet him on his head..he was rubbing all over my lap last night and purring sooo loud :) I pushed it by trying to pick him up.. no deal LOL Great news is he is eating really well, drinking water and he used the cat box twice as far as I can see. I opened the window to the porch for a him today. He got a big whiff of the wind and he got all puffed up and excited..it was so sweet to see. He wasn't quite sure what to make of going up & out the window so I put a chair there for him, and then I went out there (my neighbors must think I am insane if they saw me!) and he eventually followed me. Then once he got the hang of it he was in & out all day. I think tomorrow I MAY introduce one of my cats into there with him..I'll see how that goes. I'm going to go at his pace & hope they all get along :)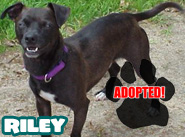 HELLO,

JUST WANTED TO TELL YOU RILEY & HIS NEW MOM ARE DOING GREAT. PLEASE TELL TERRY THANK YOU SO MUCH. RILEY IS THE BEST THING THAT HAS HAPPENED TO ME IN A VERY LONG TIME. HE SPOILS MOMMY AND HIS MOM SPOILS HIM. THANK YOU SO VERY MUCH, THERE R NOT ENOUGH WORDS TO EXPRESS HOW THANK FUL I AM. HE HAS BEEN NEUTERED & ALL UP TO DATE ON HIS SHOTS. AND HE HAS A PET LICENSE DO NOT WANT TO TAKE ANY CHANCES OF LOOSING MY NEW BEST FRIEND.

GOD BLESS YOU,
SUZANNE FEHR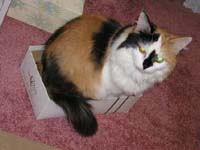 Hi, Pam & Maureen,

I would like to thank you both for providing an online forum for people to communicate the needs of animals. Maureen, Pam saw your SHARE e-mail about Phoebe and posted her on her web site. It didn't take long before a family fell in love with Phoebe. Mary Beth came up from Summers Point last night to adopt Phoebe. It was hard for me to give her up, but I feel asured that they will give her love and a good home. Mary Beth has a 7 year old daughter, who loves cats and they have a 14 year old cat that they thought could use a friend. I think Phoebe will settle in quickly and enjoy the activity and attention. Thank you both for helping me in this situation. It broke my heart to give her up and I only could have to a good home, which you helped me find. Keep up the wonderful work that you do for our animals.

Sincerely,
Gail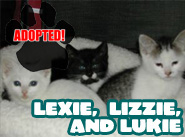 Dear Pam,

I just wanted to tell you how much we are so happy to have Emma Lizzie in our family. I really researched on finding a cat and was very lucky to find your website, Saved Whiskers Rescue Organization. What a find! From the moment I was inquiring about adopting a cat, you were so very very helpful. Not a day went by that you didn't update me on the cats you just rescued and would ask if I was interested in adopting one. When the day finally came for us to pick out our addition for our family, Emma Lizzie definitely stood out to me. After I met her I could tell she was the one. She has come so far in the past two weeks, she is not the same kitten that we brought home that Monday afternoon. She is always playing and purring. She loves for me to pet her and she just seems so happy which makes me happy. And I can't forget to mention that I just LOVE shopping for her. She is just a real joy and we all really love her. I also just love watching her play on her own. She is really fun to watch! Her favorite thing to do right now is sit in the window and watch outside. At times she ducks because a bird flies by. It is funny. I just wanted to take this time to tell you that you are an amazing person for what you do. The time and dedication is priceless. You truly have a big heart. Thank you for leading us to Emma Lizzie. We will be forever grateful!

Your friend,
Wendi and Emily

"Emma Lizzie" is the brown tabby with white.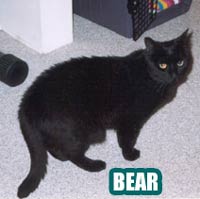 Dear Pam,
Our family coudn't be happier with Bear, the cat you placed into our home though Saved Whiskers Rescue Organization. You did everything you could to ensure Bear's smooth transition into our home, and he quickly felt like a member of the family. Before we heard about Saved Whiskers, we had been looking for a cat at other rescues and agencies and never experienced the level of caring and knowledge that we found at Saved Whiskers right from the start. We were amazed and grateful at the level of detail and attention you put into everything, from choosing a compatible pet for our other cat, Cosmo, to making sure Bear was up to date on shots and healthy. We only wish we had found Saved Whiskers ages ago! Thank you from the bottom of our hearts for a job well done and we wish you the best in your future rescues and hope many, many more are lucky enough to adopt from Saved Whiskers.
From,
The Rybandt Family
(Joe, Kristen, Vanessa, Cosmo and Bear)